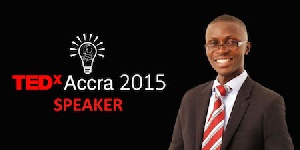 Thu, 19 Feb 2015 Source: TedX Accra
Bernardino Koku Avle is a Director of News Programming at Citi FM, he oversee a team of young hardworking news professionals producing and covering news for Ghanaian radio and online audiences. He combines this role with hosting the Citi Breakfast Show, an exciting and probing daily talk show that addresses Socio-economic issues in Ghana.
His show was adjudged the Interactive/Talk Show of the year at the BBC's Africa Radio Awards in 2007, in Nairobi Kenya and Radio Program of the year 2013 by the Chartered Institute of Marketing Ghana (CIMG).

He has been in broadcasting for close to 15 years and started as a volunteer broadcast journalist at the University of Ghana's Radio Univers in the year 2000.

He graduated with a first class in Economics from the University of Ghana and has an MBA from the Warwick Business School in the UK.

He is also an Edward R Murrow Fellow of Journalism and a Chevening Scholar.

Why you should listen to his talk?
Many people see morning radio shows in Ghana as noisy platforms for political bickering and score-settling, but having hosted the Citi Breakfast Show for a decade, I have come to understand the latent power of Radio for creating a better society, by demanding more accountable leadership and more responsible citizenship.

My ideas about the power of conversations and questions will show you simple ways in which asking the right questions- relentlessly would lead to positive change, not only in society or for hearers, but also for you, the questioner.

Quote from Bernardino: Our willingness to ask the right questions is often more important than our ability to answer them.

Bernardino on Social Media:

FACEBOOK: Bernard Avle
Twitter: @benkoku 9

Email: benkoku@gmail.com

Tedx Accra is scheduled for the 11th of April, 2015 at the National Theather, Accra.

Kindly Visit www.tedxaccra.org for more information
Source: TedX Accra