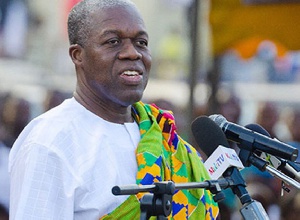 A thanksgiving service will be held this morning at the Calvary Methodist Church in Adabraka, Accra for the Late former Vice President, Paa Kwesi Amissah-Arthur.
The remains of the late Anissah Arthur were laid to rest at the new military cemetery at Burma Camp in Accra last Friday.

Several dignitaries are expected to join the widow and family of the late former VEEP for the Service scheduled at 8:00 am today.

Mr. Amissah-Arthur died on June 29 at the 37 militray hospital after reportedly collapsing at the Air Force Gym during a routine work out and was rushed to the 37 Military Hospital where he was pronounced dead.

Profile

Born on April 29, 1951, Mr Kwesi Bekoe Amissah-Arthur was an economist, academic and politician.
He was the sixth Vice-President of Ghana. He held office from August 6, 2012, until January 7, 2017, under President John Dramani Mahama.

He was also the Governor of the Bank of Ghana from 2009 to 2012.

Mr Amissah-Arthur was sworn in as Vice-President on August 6, 2012 after he was nominated by President John Dramani Mahama to be the Vice-President, a week after President Mahama had also been sworn in as President, following the sudden death of President John Evans Atta Mills on July 24, 2012.

Mr Amissah-Arthur was a research assistant at the Institute of Statistical, Social and Economic Research between 1974 and 1975.

Later, he joined the Economics Department as a teaching assistant from 1977 to 1978, moving on to become an assistant lecturer in 1979. He also lectured at the Department of Economics at the University of Ghana between 1980 and 1988; and again at the Department of Economics, Anambra State College of Education, Awka, Anambra State, Nigeria (August 1981 – July 1983).
He worked as a consultant for the World Bank in The Gambia and as a consultant for the Netherlands' government education project in Ghana.

Mr Amissah-Arthur also worked as Senior Economist for the Sigma One Corporation in Ghana between 1998 and 2000, and between 2001 and 2002, he was on assignment for the Ministry of Foreign Affairs of Denmark.

Political life

From 1983 to 1986, Amissah-Arthur served as a special assistant to the Secretary of Finance and Economic Planning, Prof. Kwesi Botchwey, in the Provisional National Defence Council (PNDC) government.

He subsequently was appointed the Deputy Secretary of Finance in the PNDC government from February 1986 to March 1993, and later became the Deputy Minister of Finance in the Rawlings-led NDC government.
In October 2009, Mr Amissah-Arthur was appointed the Governor of the Bank of Ghana by President John Evans Atta Mills. He held this position until August 6, 2012, when he became Vice-President of Ghana after the death of President Atta Mills.

He continued as Vice President when President Mahama won the 2012 election.

Mr Amissah-Arthur was married to Matilda Amissah-Arthur with whom he had two children. He was a Christian and member of the Calvary Methodist Church at Adabraka in Accra.