The confidence behind NPP's 'breaking the 8' lies in 'plans' it has made with EC – Baba Sadiq alleges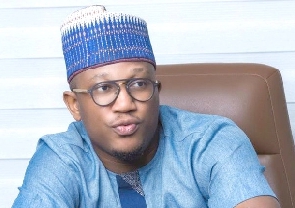 Abdullai Abu Sadiq, popularly known as Baba Sadiq, the National Democratic Congress (NDC) parliamentary candidate for Okaikoi Central Constituency in the Greater Accra Region, has raised concerns about the upcoming 2024 general elections, alleging that the ruling New Patriotic Party (NPP) might collude with the Electoral Commission (EC) to steal the election.
According to him, the NDC needs to be vigilant and be on high alert not to fall victim to any potential tactics by the NPP.

The founder of 3 Music Awards pointed to an alleged pink sheet, which circulated on social media prior to the Kumawu by-election, as evidence of the NPP's intention to steal the 2024 election.

He argued that it served as a warning sign for the NDC.

Speaking in a panel discussion on Onua TV on May 24, 2023, he claimed that the said pink sheet provides clear evidence of the NPP's intentions to manipulate the electoral process.

"How do you tell us that this is a mistake? It is not a mistake, referring to the viral pictures of the signed pink sheet. This gives us, in particular people in the NDC, a reason to be very vigilant in going into the 2024 elections because this can be one of the tricks that they will be employing," he said
He emphasized that the NDC could not trust the EC in the upcoming elections, maintaining that there is a need for the NDC to go the extra mile in monitoring the process.

According to him, the NPP's confidence in claiming they will "break the eight" (referring to winning a third consecutive term) depends on their alleged arrangements with the EC.

"You see as they consistently claim that they will break the eight '8', the confidence in which they use to say such words depends on the kinds of arrangements they have done with the EC.

"We can never ever trust the EC going into the 2024 elections. We cannot, so we need to be able as a party to go the extra mile and ensure that vigilance and monitoring should be there because these are indications that show that they would want to have their way going into the 2024 elections," he alleged.




You can also watch the latest episode of People & Places:





Meanwhile, watch the latest episode of SayItLoud on GhanaWeb TV below:


AM/SARA