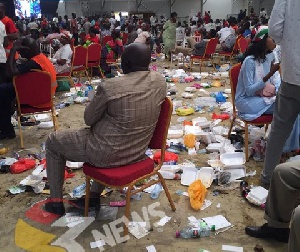 It was a simple instruction to delegates of the National Democratic Congress – No food inside the auditorium of the Fantasy Dome at the Trade Fair Centre in Accra, but it appears that was not loud and simple enough for the delegates.
After spending 24 hours in the auditorium, the over 9,000 delegates had indiscriminately littered the place with leftover food, used food packs as well as plastic water and soft drink bottles.

As of Sunday morning when voting for the national executives entered second day, the arena had been left messy, posing health hazard to the delegates and observers who were in a last minute lap to bring the curtain down on the 9th national delegates' congress of the NDC.

Though the Greater Accra Regional Chairman, Ade Coker was not happy at the "messy" situation inside of the 15,000-capacity auditorium, he was helpless. His only hope was those tasked to clean the place can restore it to its original "fantasy" looks.

He told TV3 it was impossible for them have moved out to clean the place Sunday morning because voting was still ongoing.

Mr. Coker said in the circumstance, there is nothing the party could do and that delegates would have to endure the health hazard of their action until the congress is over.
Meanwhile, sorting and counting of cast ballots are and it is expected to go on till late in the evening.