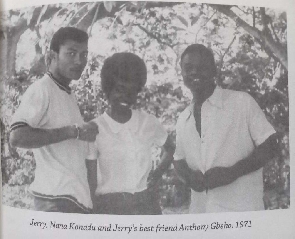 Of the many stories that have been told about how Ghana's late former president, Flt. Lt. Jerry John Rawlings, broke jail to emerge a military ruler in 1979, there is none as close as this one from his wife.
In her autobiography, It Takes A Woman, of 2018, Nana Konadu Agyeman-Rawlings shared her experience and memories of that very day on June 4, 1979.

According to her narration of events, she actually found out about the jailbreak after she was unpleasantly woken up from her sleep by her mother in the early hours of the morning.

Seeing her mother's face, she wrote that she immediately feared the worst.

"As I inched closer to the door, groping about with one hand, the other clutching a table, then a chair, I could hear the utterance of a muffled voice, 'Nana, open up!'

"I opened the door. I saw the face of a frantic woman who was visibly shaken. It was my mother. My eyes grew wide, and I felt my heart sink. My first thought was, have they killed him?" she wrote.
In Chapter One of the book, titled 'Drifting Into Sunset,' she explained that not even her mother then shared her fears with her.

Her mother's suspicions, she added, were that Jerry Rawlings had gotten himself into some very serious trouble and for which reason there was the need for her to keep Nana Konadu and Zanetor, their only child at the time, safe.

"Panting, my mother pushed herself through the door. She spoke quietly and cautioned, 'There's something going on. I think it is Jerry. We have to get you and the baby out of here.' The baby was our one-year-old daughter, Zanetor, who was our only child at the time.

"Knowing Jerry was in prison and due back in court later that same morning, I looked at my mother in disbelief and said, 'Maa, you're imagining things.'

"Impatiently, she snapped back, 'Ohhh no. You've got to listen…'" she added.
But someone with better information – the kind she could trust because of their relationship with the person and for the fact that the carrier of the message was knowledgeable enough, reaffirmed her mother's earlier fears.

Nana Konadu Agyeman-Rawlings described how a journalist they knew by the name Elizabeth, corroborated the tales of her mother, giving her no more rooms for doubt.

But she just could not believe what she was hearing because of a few things; one of which was the fact that JJ had promised her that he was not going to do anything jeopardising.

"Just then, Elizabeth, a lady we both knew and who worked as a journalist at the time, came to my door. She was equally frantic, and blurted out, 'Jerry has run out of jail.'

"I stiffened. All I could think was, I don't believe it! Just four days ago, he had promised me that he wouldn't do anything outrageous. Then I began to reflect on our last conversation while he was in detention. We were given only a few minutes of privacy during the trial. This was the first time I was allowed contact with him in the two weeks since his arrest," she added.
But Nana Konadu added that she wasn't exactly surprised, except for the fact that she did not take an earlier statement he had made to her seriously.

She added that after everything had been confirmed that it was truly her Jerry John Rawlings who had broken jail and had led an ousting of the government, that she came to understand that unbeknownst to her, he had tried to let her in on his plan.

"'Nana,' he whispered within the confines of a small room, 'these people are not really watching me that well. I could run off if I want.'

"His eyes were wide and full of hope, searching my face for a reaction.

"'No!' I said firmly. I was concerned about his safety and unwilling to encourage any thoughts of escape. 'Don't do such a thing. That is probably what they want you to do so they can kill you,' I stressed, holding his gaze. 'Don't give them a chance.' Reading the distress in my face, he relaxed his posture and feigned a smile. 'Ahhhh, don't worry Nana,' he said reassuringly. 'I was just joking,' he added, pausing, as if to say, 'You have my word.'
"That was what I thought. Looking back on that early morning, thoughts ran through my mind over and again that perhaps I should have taken Jerry's first words more seriously. Beyond the realm of anything I could imagine, plans for his escape must have already been in the works," she wrote.

The Jerry John Rawlings-led military overthrow saw the end of the rule of the Supreme Military Council, with Colonel I. K. Acheampong as its chairman, on June 4, 1979.

AE/WA