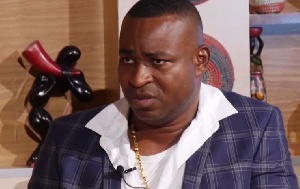 The Ashanti Regional Chairman of the New Patriotic Party, has slighted members of the National Democratic Congress for creating "millions of distortions" about the Akufo-Addo led government when discussing topics related to the Comprehensive Sexuality Education (CSE).
According to Mr. Bernard Antwi-Boasiako, there are alot of "gay" men in the NDC and they are trying very hard to feed on the CSE discussions to promote an agenda most Ghanaians including the NPP government, dislike.

Mr. Bernard Antwi-Boasiako popularly known as Chairman Wontumi explained that "the party NDC is full of alot of gay promoters. There are about 90% gay people and promoters in the party currently. They are deliberately creating millions of distortions simply to build on their agenda and promote the despicable act that is not accepted by the majority of Ghanaians".

Government has come under public pressure over claims that it is seeking to execute a secret Lesbian, Gay, Bisexual and Transgender (LGBT) agenda through the introduction of CSE.

But Chairman Wontumi responded by noting that he has been briefed on a CSE document, published before the governing New Patriotic Party (NPP) won power in 2016 that was meant to serve as a source document for teachers on the CSE programme.
In a related development, the Education Ministry has revealed that the former NDC administration started the process to introduce the controversial CSE into the curriculum of public basic schools.

The Education Minister, Dr Mathew Opoku Prempeh, has strongly stated that government has not approved the CSE document for use by teachers in basic schools.

Government has also come out to sayit has not approved any such guidelines.