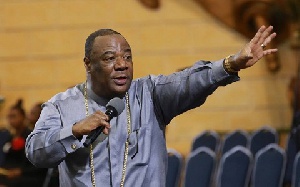 Archbishop Nicholas Duncan Williams has reiterated that there is a "brigade of liars" around leaders in political positions and leaders in the church who only seek the downfall of their superiors.
The Founder and Leader of the Action Chapel International in an interview said it takes grace and the spirit of discernment to manage such people. "There are brigades of liars around people in authority and you've got to be very wicked to deal with those people because they don't like you. When Lady Diana was asked what are you afraid of, she said she's not afraid of anything but 'The men in the grey suit'.

"Every nation has men in the grey suit and the people who influence the man that sits in the chair are very powerful people."

He was speaking on Citi Fm on his 60th birthday and his 40 years of being in the ministry where he touched on a myriad of issues about the church, politics and his personal life.

Asked whether there are such 'Men in the Grey Suit' in the church or body of Christ, the Archbishop answered in the affirmative and added that "I have a lot around me, but you discern by doing due diligence.

"When I was young, I acted on things I heard but as I've come of age, I check everything…. That spirit is very prominent here in Ghana, even in the church. Where Ghanaians have this special anointing of 'grabology' (pull him down).
"It's something about how we are. We don't complement each other and we don't celebrate the success of each other. It is like self-hatred."

Handling Negative Publicity:

Touching on how he handles negative publicity and falsehood being published about him, the Archbishop said: "a lot of people don't know me and they don't know where I've come from and they don't know what I do…"

He listed a host of social activities and outreaches to hospital and prisons etc that he is involved in including building schools in deprived communities, running an orphanage, running a drug rehab centre for addicts, paying fees of many children in school amongst others.

He said the public criticisms do not affect him saying "I don't owe it to anybody to define who I am by social responsibilities of giving to the poor. Jesus said 'the poor you shall always have with you'. I think we are very hypocritical people and it's something that I can't stand and I don't stand it."