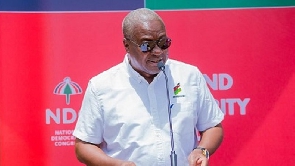 Former President John Dramani Mahama has called for the resignation of Education Minister Dr Yaw Osei Adutwum, accusing him of being incompetent.
Dr Yaw Osei Adutwum recently announced that the Conference of Heads of Assisted Secondary Schools (CHASS) and Principals of Technical and Vocational Education and Training TVET Institutions should improve their educational outcomes or stand the risk of having their institutions closed down.

He explained that a school with a consistent zero to ten percent pass rate should put together intervention programmes to ensure that the majority of their students will find opportunities for further studies rather than becoming a liability to their parents and society due to their inability to pass their exams.

Addressing branch executives of the National Democratic Congress (NDC) on Sunday, March 19, 2023, at Adudwama in the Ahafo Ano South East Constituency of the Ashanti region, the NDC flagbearer hopeful, however, was not pleased with the minister's remark and demanded that the minister resigns if he is unable to manage the educational system.

"Last week, the education minister said all underperforming schools will be closed down.

"So, I asked, what type of government is this? If a school is not performing, you need to ask yourself questions, why is it so, maybe there are no teachers, or maybe they don't have books or facilities that they need to improve the learning outcomes.
"So, you have to look at those things and help them uplift the school. But for you, you're saying because the school is not performing, you want to close the school and join the children in different schools.

"There is no sense in it. I can't even think far. The education minister if he can't take care of the school…he can't help to improve the school; he should resign for someone to take charge," he said.

John Mahama posited that rather than closing down non-performing schools, the minister ought to keep an eye on the development of such schools, identify their problems and come up with remedies.

John Mahama added that the previous administration assisted underperforming schools with teaching and learning resources, which ultimately helped those schools succeed.

Watch the latest episode of The Lowdown below:


Meanwhile, catch up on the concluding part of Francis Addai-Nimoh's interview on GhanaWeb TV below:





AM/SARA