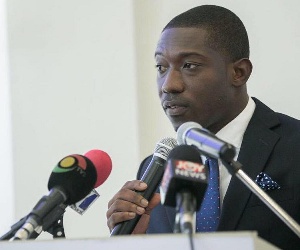 The government spokesperson on Governance and Legal Affairs Herbert Krapa has said there was "massive incompetence and breakdown in leadership" at the top of the Electoral Commission (EC).
His comments come after President Nana Akufo-Addo on Thursday June 28, 2018 sacked the chairperson of the EC Charlotte Osei and her two deputies – Amadu Sulley and Georgina Opoku Amankwah – from office.

Their dismissal was after the Committee set up by the Chief Justice, Justice Sophia Akuffo, pursuant to Article 146(4) of the Constitution, to investigate separate complaints brought against the three persons by Ghanaian citizens, recommended their removal from office.

The Committee recommended their removal on the basis of stated misbehaviour and incompetence, pursuant to Article 146(1) of the Constitution.

Speaking Saturday on Citi FM, Mr. Krapa further noted that the "role of the President in the EC situation is just a messenger; he receives, forwards, receives and then put the decision out, it's purely a Constitutional matter."

Also, he backed the government's condemnation of the politicization of the dismissal of the EC boss and her two deputies, saying it was "purely an internally generated matter."

"I don't know why anyone would want to blame political leadership for the situation at the EC," wondered Mr. Krapa.
On his part, Financial Analyst Sydney Casely-Hayford noted he does not sympathize with the former EC chairperson and her deputies.



He said, "The EC was asked to step aside because of the procurement issues and misbehavior. When you have a government that controls over 80% of public funds, the institutions now become the primary points of corruption."

"I don't have sympathy in the removal of Charlotte Osei and that's the same way I felt about Lauretta Lamptey at CHRAJ," he added.