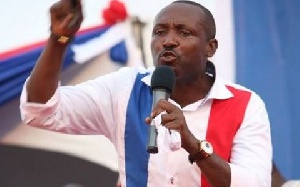 The General Secretary of the governing New Patriotic Party (NPP), John Boadu has said the NPP Parliamentary primaries in orphan constituencies nationwide, slated for 28th September will be free, fair, transparent and credible.
He noted free, fair and credible elections will be the foundation of political stability and peace in any nation.

According to the General Secretary, the quality of elections in their political party since the democratic era had continued to improve with declining levels of problems.

"Let me reiterate the NPP government is committed to free and fair elections. If there is one legacy our party want to leave, it is the enthronement of democracy as a system of government. And for democracy to be enthroned, elections must be free and fair," John Boadu exclusively told Kwaku Dawuro on Anopa Nkomo on Kingdom FM 107.7

"There's no room and there should be no room for violence in this whole process. It should be a contest of ideas that seek to win the hearts and minds of the people,"he added
Also, per the guidelines and modalities, an aspiring parliamentary candidate is required to procure nomination forms after the payment of non-refundable application fee of GH¢2,000.00 in bankers draft in favour of the NPP at its national headquarters in Accra.

According to the statement, an aspiring candidate is to pay a non-refundable filing fee GH¢20,000.00.

He said appropriate measures will be put in place to enable free and peaceful elections to be held in the upcoming NPP Parliamentary primaries.