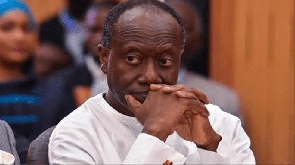 In a bid to restore confidence in the banking and specialized deposit-taking sector, the Bank of Ghana embarked on a clean-up exercise in August 2017.
Spending over GH¢20 billion, the Central Bank's action was to resolve insolvent financial institutions whose continued existence posed risks to the interest of depositors.

But businessman, Raymond Archer, has wondered why government embarked on the clean-up exercise worth GH¢20billion when these collapsed banks needed only GH¢9billion to be in business.

Speaking on Radio Gold monitored by GhanaWeb, he said there was no sense in the move taken by government.

He averred that the New Patriotic Party (NPP) has a record shutting down of businesses belonging to members of the National Democratic Congress.

"When this government came into office, they targeted Duffuor's bank, brought it down, targeted Agongo's bank because he is supposed to be linked with the NDC, brought it down. In fact, they actually spent 20 billion to bring down those banks that needed only 9 billion. That couldn't be common sense. Like I said to you, it's either they know what they are doing and they don't care...Now, they came for my business," Raymond Archer told Sena Nombo of Radio Gold FM.

"They have this pattern where they target NDC people when they are in office. They destroy the business, they build their own, destroy the politicians, pop up their own," he stated.
Finance Minister, Ofori-Atta supervised the banking sector clean-up from mid-2017 to January 2020.

The clean-up saw a reduction in the number of banks from 34 to 23, whilst 347 microfinance institutions, 15 savings and loans and eight finance houses had their licences revoked.

While some of the commercial banks were merged to form the Consolidated Bank Ghana Limited, state-owned GCB was allowed to swallow others.

The Securities and Exchange Commission also announced the revocation of licenses of 53 Fund Management Companies.

A number of these institutions were found to have varying degrees of corporate governance lapses.

The total estimated cost of the state's fiscal intervention, excluding interest payments, from 2017 to 2019 was pegged at GH¢16.4 billion.
ESA/WA

Watch the latest edition of BizTech and Biz Headlines below: