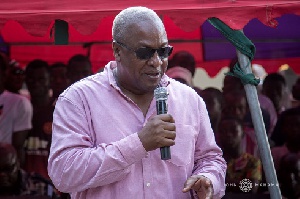 Former president John Mahama has said time has exposed the falsehood in claims by the then opposition New Patriotic Party (NPP) that his government's Green Book of achievements was photoshopped.
Ahead of the 2016 elections, top members of the NPP raised doubts about the existence of some major infrastructure projects which were completed by the Mahama administration and published in a book by the then government.

According to the NPP, those projects including the all-new Accra Regional Hospital, otherwise known as Ridge Hospital and Dodowa District Hospital, were computer-generated.

Addressing NDC delegates in the Shai Osu-Doku constituency at Dodowa in the Greater Accra region on Thursday, Mr Mahama said the existence of some of his government's major achievements notwithstanding, the NPP through a "sustained campaign of lies" convinced Ghanaians that those projects did not exist.
He said because the NPP lied about those projects, they are finding it difficult, and sometimes embarrassing, to commission some of them.

Mr Mahama has therefore urged members of the NDC to be proud of their achievements in office, expressing the hope that the party will return to power in 2020 to work hard to reduce the high cost of living as well as provide jobs.