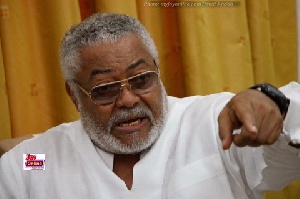 Former President Jerry John Rawlings, has slammed critics questioning his claim that the spate of armed robberies in recent times could be political motivated.
The former president recently suggested that the robberies were being instigated by some opposing forces within the security set up.

"Let us hope the recent robbery and killings is downright plain robbery and not a politically motivated action from within or without, calculated to undermine those in charge of the security machinery in order to pave the way for certain parochial ambitions," he alleged 

Some security experts and some Ghanaians have lambasted Mr. Rawlings, saying his comments only seek to politicize the security situation. 
However, in a tweet Monday night, Mr. Rawlings slammed his critics, saying they have no knowledge about power play in the security set up.


March 5, 2018