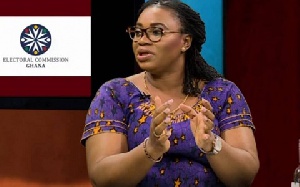 The immediate-past chairperson of the Electoral Commission (EC), Charlotte Osei, has expressed shock at the decision of President Akufo-Addo to remove her from office.
Although Mrs Osei gave little information about how the President's decision had affected her over the past 48 hours, she said she discharged her duties to the fullest of her ability.

Mrs Osei, in a release, noted that she would withhold her response due to the sudden demise of former Vice President, Paa Kwesi Amissah-Arthur, and fully address the matters once and for all at the right time.

Mrs. Charlotte Osei and her two deputies, Amadu Sulley and Georgina Opoku-Amankwah, were on Thursday removed from office by the President upon the recommendation of a committee set up by the Chief Justice to investigate allegations of misconduct and conflict of interest pursuant to Article 146.

The committee, in its report, indicated that the former EC boss blatantly breached procurement laws in the award of several contracts prior to the 2016 general elections.

The committee said it investigated six allegations against Mrs Osei and found her guilty.
It added that her explanation that she was not aware that she had to go through the procurement process for some of the contracts because the monies involved were from donor partners was untenable.

The former EC boss disclosed that "despite all the attacks, character assassinations, the falsehoods, the curses, and the relentless plots and threats against my family and I over the past three years of my service as the chairperson of the Electoral Commission, I chose to remain silent and focused on delivering on my constitutional mandate to the best of my ability.



Mrs Osei, who supervised the 2015 District Assembly elections and 2016 general elections, said she would prefer to leave the standard and quality of those elections for Ghanaians, history and posterity to judge.

She expressed gratitude for the opportunity given her to the nation.
"I still hold the view and believe that our country deserves an Electoral Commission that is truly independent, unbiased, free, fair and firm and can fight off all attempts to politically capture, manipulate, influence and control it. This was always my cardinal objective and my approach to work," Mrs. Osei added.



Mrs Osei thanked all those who sent her solidarity messages after the news broke.