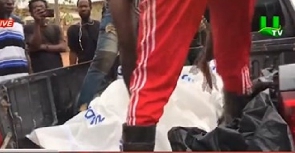 At least two people are reported to have died after the heavy downpour on Tuesday, March 7, 2023, in Bortianor, a suburb of the Greater Accra Region.
The victims, according to a news report by UTV, were a male and a female child of a family of five. The mother, father and the youngest child of the family survived the incident.

The heavy downpour, according to the report, led to the collapse of the house of the family and washed the children.

"It rains heavily here all the time but our house never collapsed. I don't know how our building collapsed today; the water was dragging all of us away. It was a woman who save me and my little child.

"I could see my children being washed away by the rain but there was nothing I could do to help them. God, why didn't you take me and leave my children," the sobering mother said in Twi.

A resident who witnessed the sad event said that the father of the children was out of the House trying to pack his car properly because of the rain when suddenly the building collapsed.
He tried running back to save his family, but before he got there, the two children had been carried away by the rain.

Other residents who spoke to UTV indicated that the area always floods because it has a poor drainage system.

They urged their Member of Parliament (MP), the MP for Bortianor-Ngleshie-Amanfro, Sylvester Tetteh, who they say was around to witness the damage done by rain, to help construct more gutters for them.

The resident found the mortal remains of the victims and personnel of the Ghana Police Service transported them to the morgue.

Watch the news report below:
Mother breaks down in tears as Tuesday's heavy downpour killed her two children at Bortianor#UTVGhana pic.twitter.com/JZlamtdVt6

— UTV Ghana (@utvghana) March 7, 2023
You can also watch this episode of People & Places here:
IB/OGB