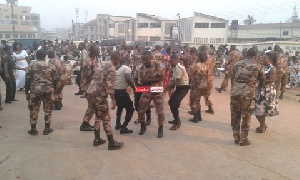 The University of Education, Winneba, University of Ghana and University of Cape Coast are expected to extend distance learning to prisons to help inmates upgrade their academic qualification while serving their sentences.
According to the Ghana Prisons Service, plans are far advanced to get the three public universities to admit inmates who qualify to pursue programmes and acquire degrees.

Chief Public Relations Officer of the prisons, Superintendent Vitalis Ayeh disclosed this in an interview with Class News' Jerry Akornor.

He noted that all the central prisons in the 10 regional capitals have educational systems at least up to the Junior High School level and have forwarded students to sit for the Basic Education Certificate Examination (BECE), but said the initiative would be extended to the tertiary level.
"We are in talks with the Universities of Ghana, Cape Coast, and [Education], Winneba to extend their services to the Prison Service of Ghana so that these inmates who have qualified to enter university but because they are serving in the prison and cannot go to the university [can profit]. They can benefit from the distance education system and they can come out better off. We have done that. It hasn't started yet, but I believe that where it has gotten to, very soon we'll have distance learning in our prisons," he stated.

Meanwhile, the Prisons Service has proposed a separation of remand inmates from convicted prisoners in a bid to decongest the prisons.