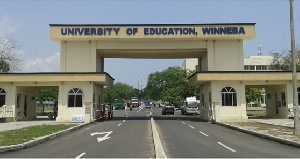 It has emerged that the leadership of University of Education Winneba (UEW), on Thursday, November 21, held an election to elect a Pro-Vice-Chancellor (VC) despite a Winneba High Court injunction.
One Dr Frimpong Kaakyire Duku, according to some writ of summons intercepted by GhanaWeb filed an application for an injunction following his appeal over the decision of the court on November 18, 2019, on grounds that the proper jurisdiction of the courts was not invoked.

An earlier notice of the election of the Pro VC was postponed indefinitely due to a suit filed by attorneys for Dr Duku on June 14, 2019.

On November 18, 2019, the court ruled in favour of the University for it to hold the Pro VC elections but unsatisfied, Dr Duku sought to place another injunction on the election, which will have the effect of restraining the UEW from continuing with the election.
But authorities of UEW on Thursday proceeded to hold the election and elected a new Pro VC at the University's campuses across the country.

GhanaWeb sources have it that the injunction was served on the University on Wednesday, November 20, 2019, through, Librarian Viscount Buer, who is one of the principal officers of the university.