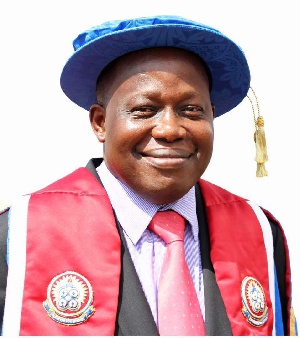 Tue, 17 Sep 2019 Source: Stephen Nani
Information reaching topnewsgh.com from sources at the University of Education, Winneba is that Vice Chancellor of the University is convening a meeting of the Appointments and Promotions Board tomorrow, 18th September, to elevate his boy, Danny Damson to the position of Associate Professor.
This appointment is deliberately calculated to take place a day ahead of the newly inaugurated Council meeting scheduled for Thursday, 19th September, 2019.

Prior to the schedule of this meeting, the Prof. Rev. Afful-Broni implored an elimination tactics on members of the Appointments and Promotions Board by removing persons suspected to be against him. The Vice Chancellor is alleged to have orchestrated the removal of Prof. Sakyi-Baidoo and replaced him with Prof. Andy Ofori-Bririkorang and replaced the acting Pro. Vice Chancellor with Professor Ruby Hanson, an associate who has only served as Dean for a year, has been Pen down to be appointed as Pro Vice Chancellor.

Statutes 7(b,d) of the university's act states "A Pro Vice Chancellor shall be elected by Convocation and by appointment of the Governing Council. In the event that the Pro Vice Chancellor is absent or the position is vacant, the most senior Dean shall act until council is able to make a formal appointment".

Since the assumption of office of Rev. Afful-Broni, seniority and hard work has been thrown to the dogs, as bootlickers and stooges get rewarded on a daily basis. More worrying is the deliberate removal of senior lecturers on the bases of speculations and ill feeling and their replacement with Junior colleagues of the university.
Most lecturers have been silenced by the diabolic actions of the Vice Chancellor and fear speaking against the irregularities being perpetrated by Rev. Afful-Broni.

At this point, the only hope of these lecturers is the newly inaugurated Governing Council as many hoping he will not be compromised as his predecessor allegedly was.

Meanwhile, the Governing Council Chair, Prof. Obeng Mireku is scheduled to commission a Five Story Block of flats at the North Campus on Thursday. The commissioning according to sources is to provide Prof. Rev. Afful-Broni an opportunity to get himself in the good books of the Chairman of the Governing Council.

The question to be answered is whether Prof. Obeng Mireku, a respected man of his calibre will allow to be used? Time will tell.
Source: Stephen Nani