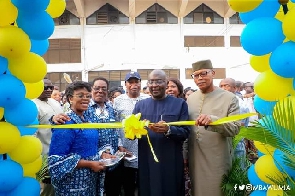 Leadership residents and alumni of the Mensah Sarbah Hall of the University of Ghana (UG), Legon, have launched the 60th anniversary of the hall.
A traditional hall of the premier university, the Mensah Sarbah Hall has produced outstanding Ghanaian statesmen and women.

Vice-President Dr Mahamudu Bawumia who joined leadership, residents and alumni of the hall to launch the anniversary, also unveiled a statue of John Mensah Sarbah.

The statue was sponsored by the alumni of the hall in honour of the nationalist.

The Vice-President urged current students of the University and residents of Sarbah Hall to be inspired by the nationalist, particularly, his ideal of thinking and looking ahead, which Dr Bawumia noted is a great inspiration personally.

The anniversary is themed: 'Reengineering Quality Residential Services: Adopting Technology, Embracing Partnerships'.

The anniversary launch was held at the Mensah Sarbah Hall dining hall on Friday, 17 February 2023.
John Mensah Sarbah was a lawyer and a politician.

He was one of the outstanding nationalists of the then Gold Coast.


The full size statue of the 1st Ghanaian Lawyer, JOHN MENSAH SARBAH, was today unveiled by the VEEP of the Gh., Dr. Mahamudu Bawumia on the occasion of the 60th Anniversary of MENSAH SARBAH HALL.

Pic Cred: Dr. Bawumia

???? Dr. Bawumia in the company of some alumni of Sarbah Hall pic.twitter.com/0hkJsfXQdv

— The Law Platform (@DeLaw_Platform) February 17, 2023