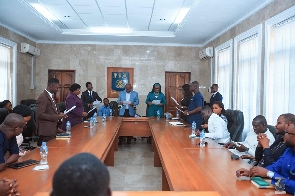 Tue, 21 Feb 2023 Source: Eli Djomekou, Contributor
The University of Ghana has inaugurated a six-member board to manage the activities of a Graduate Students' Development Fund.
The fund was established by the executives of the Graduate Students' Association of Ghana (GRASAG-UG), the University of Ghana, Legon branch.

The six-member board, chaired by Mrs. Nelly Abosti, will oversee the operationalization and utilization of the fund in a bid to achieve its purpose.

Speaking at the inauguration ceremony held at the Old Council chamber, Pro Vice-Chancellor of Academic and Students' Affairs, Prof. Gordon Awandare, commended the leadership of the association while entreating members to support the initiative.

"The Vice-Chancellor envisions improving student's experience by providing world-class teaching and learning facilities. When students enjoy their experience on campus, they form a bond with the school, allowing them to return in the future to give back to the school," Prof Awandare said on February 8, 2023.

He added that senior management is cognizant of the deficit in accommodation spaces on campus, assuring that authorities were prepared to solve them using creative means.

President of the Legon branch of the Graduate Students' Association of Ghana, Christiana Adu, underscored that the fund is set up to help resolve the accommodation crisis among graduates.
The topmost priority of GRASAG-UG Development Fund presently is to construct two thousand bed capacity building for postgraduates.

According to the board Chairperson of the fund, Mrs. Nelly Abosti, their tasks include enhancing and expanding the existing infrastructure to improve students' experiences on campus.

"One of the strategies the Board will employ is to target various stakeholders who will help the Board achieve its objectives. I also urged members of the Board and GRASAG to work together to ensure the successful execution of the mandate," she stated.

Dean of Students Affairs and member of the board, Prof. Rosina Kyeremanten, appealed for expedited plans and measures towards the completion of the graduate hostel facilities.

The remaining five members of the board include Dean of School of Graduate Studies, Prof. Robert Darko-Osei; Students' Accountant, Mr. Samuel Osei-Mensah; Initiating Executive Council President, Ms. Christiana Adu; Elder Statesman of GRASAG-UG, Mr. Nicodemus N.D.B. Derry and Interim Management Committee Chairman, Mr. John-Mark Beku.

Meanwhile, catch the latest GhanaWeb TV Election Desk interview with Francis Addai-Nimoh, as he discusses his plans to become the NPP's flagbearer, below:




You can also watch this episode of People & Places on GhanaWeb TV below:


Source: Eli Djomekou, Contributor