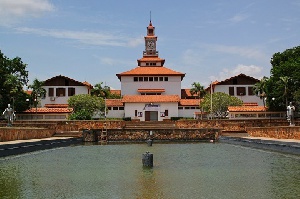 The University of Ghana has been slapped with a $160million judgement debt at an International court for unfairly terminating a contract started under the regime of the former Vice Chancellor Professor Ernest Aryeetey in 2014.
The ruling dismissed the two claims by University of Ghana and awarded termination costs of more than $160 million to the project developers – Africa Integras Project.

The ruling in London delivers a huge image blow to the University of Ghana and a major financial loss to Ghana.

The University, back in 2014, entered into a Public Private Partnership (PPP) agreement with Africa Integras to invest US$64 million in the construction of 1,000 new students' hostel beds for undergraduate and post-graduate students on the Legon campus.

The project was structured as a 25-year Build, Operate and Transfer (BOT) contract.

But after the change of leadership in 2016, the new university council raised questions about the deal, particularly relating to the overall cost to the University.
However, Prof. Aryeetey insisted the processes leading up to the signing of the agreement with Integras were transparent, with all relevant stakeholders being kept informed of all developments.

"There is no scandal at all in relation to the $64.4 million contract. Africa Integras signed an agreement that they were supposed to spend that money. As far as I know, by the time the project stopped, they had spent about $28 million. How does a phony company come and spend $28 million? You can see the buildings coming up and yet it has been written that I have signed an agreement with a phony company. We haven't spent any money ourselves, it's the 'phony' company that's spending the money; how does a phony company put up buildings?," Professor Aryeetey asked.

The Arbitrator, however, did not accept the UG argument that the Concession Agreement signed by the two parties was not enforceable.

University of Ghana had sought to present the agreement as not being enforceable, claiming that its own procedures followed in preparing the Concession Agreement were flawed and did not follow due process.

The Arbitrator found nothing wrong with the process followed in preparing the Concession Agreement.