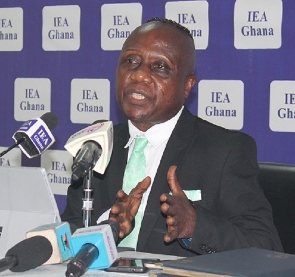 The Director of Research at the Institute of Economic Affairs, Dr John Kwakye, has stated that the time is due for Ghanaians to ditch the two major political parties, the governing New Patriotic Party (NPP) and the opposition National Democratic Congress (NDC) and to give the opportunity to a third party to serve and bring out their ideologies and policies to develop the country.
According to him, both NPP and NDC are incompetent and for that matter, Ghanaians need a third force party to uproot them from office.

In a Twitter post dated February 26, 2023, and sighted by GhanaWeb, he said "we need a third force in Ghanaian politics to uproot the incompetent NPP-NDC duopoly."

Evolution of Ghana's Fourth Republic

President John Agyekum Kufuor (NPP) completed his second term in office in 2009 having taken office in 2000 from late Jerry John Rawlings (NDC). It was Rawlings who kick started the Fourth Republic in 1993, serving two terms till 2001.

The election to replace Kufuor was a two-horse race between Nana Addo Dankwa Akufo-Addo (NPP) and late John Evans Atta-Mills (NDC). The latter contesting for the third consecutive time beat Akufo-Addo in a runoff vote.
Mills died while in office paving the way for his then Vice President John Dramani Mahama to become president. Mahama won the 2012 polls but lost his re-election bid to Akufo-Addo in 2016.

Akufo-Addo beat him in 2020 with both men seeking re-election, that is their final terms in office.


We need a third force in Ghanaian politics to uproot the incompetent NPP-NDC duopoly.

— J. K. Kwakye (@JohnKwabenaKwa1) February 26, 2023
Watch the latest edition of BizTech and Biz Headlines below:


Watch the latest edition of Business Moments below:





AM/SARA