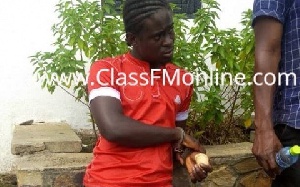 The Madina District Magistrates Court presided by His Lordship Richard Delali Anku, has adjourned the case involving the killing of Martin Tweneboa-Kodua, an Old Vandal to 9 January 2018, to determine the substance of the matter.
On Saturday, 9 December 2017, a fellow Old Vandal stabbed the victim to death at the charging grounds of the Commonwealth Hall at the University of Ghana during a heated argument.

The two began the argument while they travelled back to campus from a funeral of an Old Vandal [an old student of the University of Ghana belonging to the Commonwealth Hall].

According to the Old Vandals Association, the two were separated on several occasions during their heated arguments on the bus but they did not stop.
They were then thrown out of the bus but the argument continued even when they arrived on campus. Suddenly, the suspect grabbed a knife from a khebab seller and stabbed the victim multiple times.

The victim bled profusely and was rushed to the Legon Hospital by the suspect and some Vandals but was later pronounced dead.