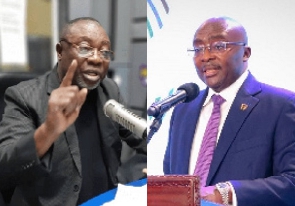 Sam Pee Yalley, a former ambassador to India, has alleged that the Vice President, Dr. Mahamudu Bawumia, holds British citizenship.
Speaking in an XYZ TV interview on Thursday, June 8, 2023, monitored by GhanaWeb, Yalley said that records to which he is privy indicate that the vice president had British citizenship when he worked in the United Kingdom for the Bank of Ghana.

He added that the vice president never renounced his British citizenship and is, therefore, not eligible to hold public office in Ghana, just like the ousted Member of Parliament for Assin North, James Gyakye Quayson, who was removed for not renouncing his Canadian citizenship on time.

"Do you know that the Bank of Ghana has had an international commercial bank in London for a long time? The Bank of Ghana normally sends directors there, and Bawumia was one of them.

"Now that the Supreme Court has decided that a person who holds dual citizenship cannot be a member of parliament, Bawumia's record at the Bank of Ghana in London indicates that he is a British citizen. He was a British citizen way back in 2009 before ex-President Kufuor brought him to Ghana.

"He was the director of the international bank, and if you check their records, he wrote that he was a British national. One may ask whether Bawumia was a director of that bank and whether he ever signed that he was a British citizen. If so, when did he renounce it?" He quized in Twi.
Sam Pee Yalley made these remarks while reacting to the ruling of the Supreme Court of Ghana on the legitimacy of former Assin North Member of Parliament, James Gyakye Quayson.

The Supreme Court, on May 17, 2023, ordered the Parliament of Ghana to expunge the name of James Gyakye Quayson as a Member of Parliament (MP)

The apex court of the land ruled that Quayson was not qualified at the time he contested the election in 2020 in the Michael Ankomah Nimfah vs. James Gyakye Quayson case.

According to the court, the ousted Assin North MP failed to prove that he had renounced his Canadian citizenship when he filed his nomination to contest the 2020 general elections.

Watch the interview below:


Also, watch the latest episode of GhanaWeb Election Desk on GhanaWeb TV below:





Meanwhile, watch the first episode of Everyday People on GhanaWeb TV below:


IB/FNOQ