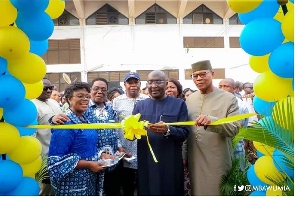 Vice President Mahamudu Bawumia says Traditional Halls of Universities should be used to champion unity and patriotism and not conduits for mischief, waywardness, and hooliganism.
He said the residential life on campus must be footprints worthy of emulation. Vice President Bawumia made these remarks when he launched the 60th Anniversary of the Mensah Sarbah Hall of the University of Ghana.

Dr Bawumia charged the University to continue to leverage on technology to enhance academic work and the allocation of residential halls to students.

Vice President Bawumia also out doored the Statue of John Mensah Sarbah who played a key role in the establishment of the Hall.

Established in 1963, the Mensah Sarbah Hall is the youngest of the five traditional Halls of residence at the University of Ghana. It was the first mixed Hall of the University.

Mensah Sarbah Hall was named after the lawyer, Politician and Statesman, John Mensah Sarbah, who played a significant role in the political dispensation of the country.
The Hall is the first to be established as a hostel on campus to meet the accommodation needs of students.

The year-long anniversary began with a visit to the family house of John Mensah Sarbah in Cape Coast. Other activities will include public lectures, health screening, games, and homecoming and the climax will be a dinner and awards night and a Thanksgiving service.

Proceeds from the anniversary will be used to set up an Endowment Fund and an Annual Public lecture to honour the late John Mensah Sarbah.

Vice President Bawumia urged members of Sarbah Hall to continue to be trailblazers and set good examples for the next generation.

He said John Mensah Sarbah was an epitome of a great personality and this must translate into the lives of those who are privileged to be part of the Mensah Sarbah Hall.
Former Head of, the United Nations Office for West Africa and the Sahel (UNOWAS), Dr Mohammed Ibn Chambas in a remark eulogised the Late Mensah Sarbah who was instrumental in the establishment of the hall.

The Hall Master of Mensah Sarbah, Dr Roger Ayimbilla said 60 years is a significant milestone as the hall has come a long way. He outlined the objectives of the anniversary.

The Anniversary theme is "Re-engineering Quality Residential Services: Adopting Technology, Embracing Partnerships".