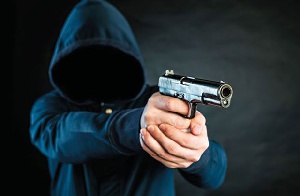 Some victims of last Thursday"s highway robbery on Koforidua to Adukrom road have identified two suspects arrested by Police in an identification parade organized at the Eastern Regional Police Headquarters in Koforidua.
The suspects- Razak Mohammed, 26 and Iddrisu Issah, 23, were among a gang of about six highway robbers whom on January 16, 2020 at about 12:10 am, attacked several Vehicles including a Sprinter Bus with registration number AW 6561-12 on-board with 23 passengers driven by Kwame Atta traveling from Hohoe to Kumasi, according to the Public Relations Officer of the Eastern Regional Police Command, DSP Ebenezer Tetteh.

The robbers, wearing face masks and wielding guns blocked a section of the road at a spot between Adukrom and Amanfrom, to rob several vehicles and subjected the passengers to severe beating while robbing them of their personal belongings at gunpoint.

The robbers succeeded in taking away assorted mobile phones and an unspecified amount of money

The incident went viral in the communities along the road which residents came out in their numbers to help arrest the suspects but they managed to escape into the bush.

Policemen on Nkurakan barrier duties, gathered intelligence about the incident hence were on high alert. At about 5:30 am same day, the two suspects who were on board a commercial urban bus with registration Number ER 1508- 18 from Adukrom heading to Koforidua were fished out by the Police at the barrier.
A search conducted on the suspects revealed two single barrel guns, 3 live BB cartridges, assorted mobile phones, and cash the sum of GHC1362.20. The suspects were handed over to the Nkurakan Police but were quickly moved to the Regional Police Headquarters after irate residents began trooping to the Police Station.

The suspects have been remanded in Police custody to assist in investigations as efforts are underway by Police to arrest other accomplices.

The Koforidua Adukrom -Aseseeso road is notorious for robbery attacks some of which resulted in deaths and injuries.

The Koforidua Circuit Court "B" presided over by Her Honour Mercy Addei Kottey, on June 7, 2019, jailed two foreign residents -a Beninoire and a Nigerian for their involvement in highway robbery on the Adukrom to Koforidua road.

The two convicts – Ibrahim Ajayi Kupenu, 25, a Beninoir, and Frank Ude alias Asoani, a Nigerian were convicted to 20 years imprisonment each with hard labour.