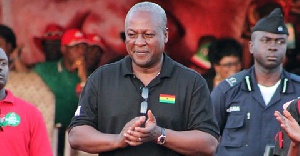 Sun, 11 Nov 2012 Source: GNA
President John Dramani Mahama on Saturday observed that President Barrack Obama's victory in the United States would be replicated for the National Democratic Congress (NDC) in the December polls in Ghana.
He said: "In 2008 polls in the USA, Obama won by chasing the elephant into the bush and later the NDC also chased the elephant into the bush in Ghana, and just this week, Obama has again chased the elephant into the bush, which will be replicated in Ghana in December."

President Mahama made the observation when he addressed a rally as part of his three-day campaign tour of the Upper East Region.

President Mahama also paid courtesy calls on chiefs, interacted with students of various tertiary institutions and inspected and inaugurated development projects.

He said the performance of the NDC government in the last four years is enough evidence to encourage more Ghanaians to vote massively for the party in the forthcoming elections.

President Mahama appealed to the chiefs and the people to desist from inflaming passion on the creation of districts and the naming of their capitals.

He said the carving of new districts are geared towards accelerating development projects, explaining that every new district is entitled to new hospitals, small town water projects, police stations, post offices among other basic amenities.
President Mahama said in-spite of the increase in wage bills as a result of the implementation of the single spine salary structure; government is still economically solid to execute more development projects in the phase two of the better Ghana agenda.

He promised to increase the supply of energy to increase industrialization and job creation.

At the Bolgatanga Polytechnic President Mahama said government is working at effective means by which the polytechnics could be turned into technical and vocational degree awarding academic facilities to solve the technical manpower demands of the country.

He said the NDC government since 1992 had been instrumental in the establishment of tertiary institutions and would therefore continue in that direction to train more Ghanaians to become experts and professionals.

Mr Haruna Iddrisu, Minister of Communications denounced the New Patriotic Party's promise to provide free Senior High School education, describing it as "trying to provide a hen coop before the laying of the hen".
Source: GNA