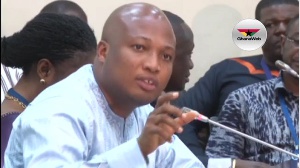 The Member of Parliament for North Tongu Samuel Okudzeto Ablakwa is advocating the disbandment of vigilante political parties in the country.
This comes after a group of well-built men from the governing New Patriotic Party's Delta Force on Friday 24 March stormed the Ashanti Regional Coordinating Council to stop Mr George Agyei, who has been appointed as the regional security coordinator, from performing his duties.

According to members of the party's private security arm, they cannot work with Mr Agyei since he is not native to the region.

Mr Agyei was allegedly manhandled and dragged from his office, but was saved by police officers who were called in to maintain calm.

Reacting to this development on Newsfile on Multi TV on Saturday 25 March, Mr Ablakwa said the existence of vigilante groups was a violation of the constitution.
"This is another reminder that we have to disband these groups. We no longer can countenance the existence, the collusion, the explanations, and there can be no justification to keep these militia groups. Article 210 (2) of the constitution is very clear. It says that no person shall raise an armed force except by or under the authority of an act of parliament. So what we are seeing is against our constitution where you have groups that are armed that purport to be providing security," he stated.

"In Ghana, the constitution provides for only the armed forces of Ghana as article 210 (1) says there shall be the armed forces of Ghana which shall consist of the army, navy and air force and such other services for which provision is made by parliament. So these groups all over the place, be it Delta Force, the Invincible Forces or whatever they call themselves, they are not known to parliament, they are not known by an act of parliament, they are not known to the constitution and they should not be tolerated."