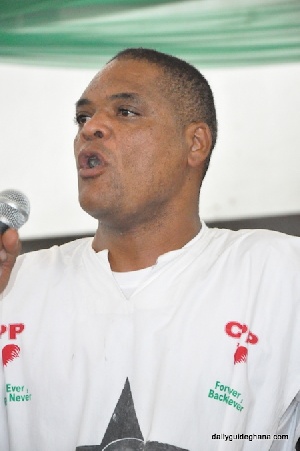 The flag bearer of the Convention People's Party (CPP), Ivor Kobina Greenstreet, has blamed both the governing National Democratic Congress (NDC) and the New Patriotic Party (NPP) for the challenges being witnessed in the Ghanaian economy.
"For 24 years, we have been subjected to the policies of both the NDC and the NPP which have led us to this unfortunate situation," said Greenstreet on Monday on the Morning Starr.

He thus called on Ghanaians to massively vote the CPP for the restoration of the country's lost dignity, due to years of unbridled corruption, debilitating figures of youth unemployment and bad governance by the NDC and the NPP.

He argued that it would be foolhardy to vote for either the NDC or the NPP in the forthcoming December 7 presidential and parliamentary elections after their "reckless handling" of the economy.

This, he stated, would be achieved using the foundation stones of the party "which are three in nature; the first being self-determination — which means that we have to fight harder for self-reliance and do more for ourselves. Secondly, social justice, meaning that the wealth thereby generated is shared equitably among all Ghanaians irrespective of where they come from and thirdly, Pan-Africanism."
"We believe that unless we show courage as a nation, we'll continue to wallow in the situation that we find ourselves in," added Greenstreet.

He said the time has come for Ghanaians to resist the NDC, NPP monopoly for a "rapid" yet "flexible" response to the country's economic challenges.

"So, we have to restore our dignity as a nation and we believe as a party what has achieved for political independence to this nation and what we believe we can do in the struggle for greater economic independence for this nation…our determination is unwavering," he maintained.