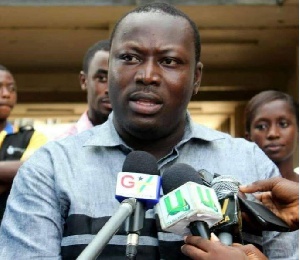 The National Youth Organiser of the main opposition National Democratic Congress (NDC), George Opare Addo, has stated that the party cannot be cowed into silence by the actions of the Akufo-Addo-led administration concerning the new voters' roll.
Mr Addo said the NDC will resist all attempts by the Electoral Commission (EC) to compile a new register of voters.

According to him, opinion leaders and the clergy have all been quiet for fear of being victimised by the government.

With the debate still ongoing on whether or not there is the need for a new register, the NDC National Youth Organiser warned that the country is sitting on a time bomb.

Speaking with Kwabena Jnr Prah on 'Ghana Yensom' on Accra 100.5FM on Friday, 24 January 2020, Mr Addo said: "I've said it and I'm saying it again that there is a thin line between peace and instability. Akufo-Addo is taking Ghana back to the culture of silence but we can't keep quiet anymore; all leaders in the country are scared to voice their opinion; can't you see what is going on? But let me assure Akufo-Addo and the NPP that they are not more Ghanaian than us, we are all Ghanaians".

"Looking at the agitations going on, the country is sitting on a time bomb likely to explode if the right thing is not done", he warned, adding: "The agitations do not augur well for the country".
"My prayer is that the EC chairperson, Jean Mensa, will be a listening referee so that peace will prevail".