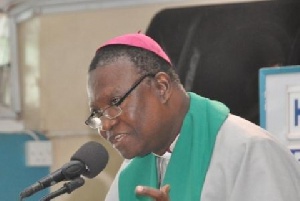 The Chairman of the National Peace Council has expressed fear concerning the extreme positions taken by political parties over the calls for and against the compilation of a new voters register by the Electoral Commission of Ghana.
Rev. Prof Emmanuel Asante, who doubles as the Presiding Bishop of the Methodist Church-Ghana, described the on-going debate as a potential danger for the country.

In an exclusive interview on Rainbow Radio breakfast show, the Peace Council Chair stated that it will be difficult for any group of people to accept results of any elections in which they do not believe in the electoral register.

He, therefore, charged the Electoral Commission to act in the interest of the State and not any individual or political party.
Rev. Asante further noted that the Council doesn't only work during electioneering years as perceived by a section of the society but does work all year round.

He disclosed that a study conducted by the Peace Council and the University of Cape Coast revealed many hot spots that are dangerous for Ghana.

Rev. Prof Emmanuel Asante admonished all citizens to protect the peace the country is enjoying.