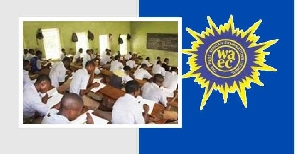 The West African Examinations Council (WAEC) has announced the opening of the portal for registration of candidates for the West African Senior School Certificate Examinations (WASSCE).
The portal was opened today, Wednesday, 15 March 2023, for school candidates and will close on Wednesday, 19 April 2023.

"The WASSCE for School Candidates is a school examination and is available to students in the third/final year of Senior High School only," the WAEC said in a statement announcing the commencement of registration.

It reminded heads of the various second cycle institutions that it is against the rules and regulations of the examinations for schools to "solicit for students and advertise the WASSCE for school candidates in any form e.g. in print, electronic, or social media.
"Register students who have not been enrolled in senior high school from their first year through to third year and do not have the required continuous assessment records. Register students who are not in their final year or are not bona fide students of the schools in question."

Also, "register remedial students who have previously written the WASSCE (SC)and join some public public/accredited private schools in form three for examination purposes only."

The examinations will however take place in Ghana from Monday, 31 July 2023 to Tuesday, 26 September 2023.