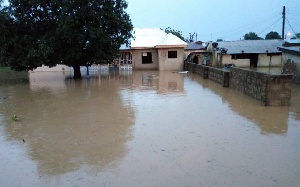 Heavy rainfall in the Upper West region on Friday, 31 August 2018 has displaced hundreds of residents and many properties destroyed in the Wa municipality.
The four-hour torrential rain flooded major parts of Wa and its surroundings.

Meanwhile, the National Disaster Management Organization (NADMO)officials were on the secene to help with rescue efforts.
No casualty recorded.