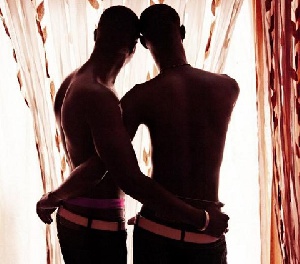 A respected leader of the Islamic faith has vowed that his fraternity would join hands with the Christian community and all other faith-based groupings to stop the planned conference by the Pan Africa International Lesbian, Gay, Bisexual, Trans and Intersex Association scheduled for Accra in July this year.
The Ashanti Regional Chief Imam, Sheihk Muumin Abdul Haroun who spoke in an interview on Kumasi-based Angel FM monitored by MyNewsGh.com on Tuesday evening described homosexuality as an "evil that must not be countenanced in any way because it is despised by God".

"Wallahi tallahi we will not agree; we Muslims, Christians and the Traditional religion will all rise up; we will not allow them to even step foot here and not even the government can stand in our way; the country does not belong to them; it belongs to us so we decide who does what here", he swore.

MyNewsGh.com reported on Tuesday of an announcement by the Pan Africa International Lesbian, Gay, Bisexual, Trans and Intersex Association on its website that, "our 5th Regional Conference, 27 – 31 July 2020 in Accra, Ghana. This will be the first PAI conference in West Africa".

The association defends its decision of choosing Ghana as host of its first ever West Africa conference, based on its "history as the centre of Pan Africanist thought and ideas" and thus "holds special significance for PAI"; but Sheikh Haroun says homosexuality would never have a place in Ghana, let alone to flaunt it in the faces of everybody in a "demonic" conference.

The Chief Imam says the Islamic faith would through the upcoming Ramadan period and Id celebrations mount a spirited resistance against the planned conferences by preaching against it in the mosques and call the attention of the government to its devastating effects at every outdoor event.

"Some say when they do it they get money and that it is a game for the rich; Allah does not permit that in any way and our Prophet Mohammed (SAW) said that if we see people who practice that behavior, we should arrest them and kill them; but today they have come public with it and say they are coming to do a conference; how; it's because we are pampering them; we should stop them; as for us we are stopping them and I know other religions too would", Sheikh Abdul Muumin said.
Pan Africa ILGA (International Lesbian, Gay, Bisexual, Trans and Intersex Association), also known as PAI, however say it "is a network of organisations in Africa working to improve human rights of individuals on all grounds, including sexual orientation, gender identity and expression and sex characteristics".

The unique strength of this network is that it is connected to a global movement through ILGA, the International Lesbian and Gay Association. ILGA international serves more than 1,300 organisations from around the world, information on its website indicates.

PAI currently has a permanent membership of 192 LGBTIQ+ organisations across the continent based in: Algeria; Burundi; Cameroon; Cote D'Ivoire; Democratic Republic of Congo; Egypt; Eswatini (Swaziland); The Gambia; Ghana; Kenya; Liberia; Libya; Malawi; Mali; Mauritania; Mauritius; Morocco; Mozambique; Namibia; Nigeria; Rwanda; Senegal; Sierra Leone; South Africa; Sudan; Tanzania; Togo; Tunisia; Uganda; Zambia; and Zimbabwe.

It has chosen The SANKOFA Bird, a historic national symbol of Ghana as its logo.

To the PAI, "the symbol speaks to the importance of going back to fetch that which should not be left behind, find knowledge in our past, and build a future. Thus, we will be: Looking Back to Our Roots – Reclaiming Our Rights!"