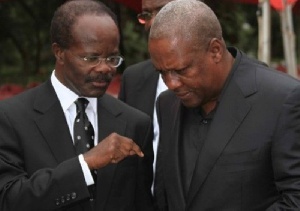 Ghanaians cannot continue wasting their votes on wrong presidential candidates who cannot transform their lives, Dr. Papa Kwesi Nduom, flagbearer of the Progressive People's Party (PPP), has said.
According to him, wasted votes in the 2012 elections gifted Mr. John Mahama the presidency, following which, in Dr. Nduom's view, the president has visited untold hardships on Ghanaians.

Dr. Nduom is campaigning to win this year's presidential election. He has to nudge off competition from the governing National Democratic Congress and the New Patriotic Party, who have dominated the political space in Ghana in the fourth republic before he can win the presidency.

He believes that to the extent that several Ghanaians are still wallowing in poverty, the NDC and NPP have been wrong choices for Ghanaians.
In a Facebook post titled: 'What is a "wasted vote?' Dr. Nduom said: "A wasted vote is the one that brought President John Dramani Mahama and his NDC-led administration" into office, adding that current government is causing Ghanaians to "suffer."

"Voting is not a one-day affair. The results of the votes we cast bring positive or negative effects lasting for four years. We Ghanaians cannot continue to waste our votes on the wrong candidates. I believe that we waste our vote by voting for someone just because they come from the same tribe or due to blind party loyalty. We must vote with the hope that we get positive results that transform our lives for the better, not for one day but for four whole years and beyond.

"A wasted vote is promises not kept and expectations not met by the one you voted for. A wasted vote is the one that still brings us preventable diseases like malaria, cholera, and [pneumococcal] meningitis. A wasted vote is the one that puts the country into high debt and unable to pay teachers, doctors, nurses and civil servants. A wasted vote is the one that continues to bring DUMSOR [power outages]. A wasted vote is the one that brings unemployment to our young men and women, even those with university and polytechnic credentials. A wasted vote is the one you cast for the 'lesser of two evils'"