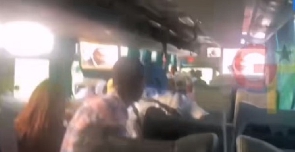 The bravery of a commercial driver saved a group of people, including a journalist of GTV, Sayida Maltiti Sadick, travelling on a highway in Kintampo, in the Bono Region, from a robbery attack on Saturday, September 1, 2023.
A video of the incident shared on Facebook by Ghana Broadcasting Corporation (GBC) showed the driver refusing the orders of some armed robbers to stop.

He sped off despite the attempts by the armed robbers who were chasing and shooting at the bus to stop it.

The video showed a chaotic scene on the bus as most of the passengers could be seen crying, praying and hiding under their seats as they were being pursued by the armed robbers.

As some of the passengers were urging the driver not to stop, others could also be heard saying "they are shooting at us, they are shooting at us".

One of the passengers told the driver to turn at some point but he said he was heading for a police checkpoint, nearby.

The video shared by GBC was captioned: "A near-death experience; GTV's Sayida Maltiti Sadick escapes robbery on the highway, around Babato kuma, near Kintamp, on Saturday".
Watch the video below:



Ghana's leading digital news platform, GhanaWeb, in conjunction with the Korle-Bu Teaching Hospital, is embarking on an aggressive campaign which is geared towards ensuring that parliament passes comprehensive legislation to guide organ harvesting, organ donation, and organ transplantation in the country.

Watch the launch of the 2023 GhanaWeb Excellence Awards on GhanaWeb TV below:




Click here to start the nomination process for the 2023 GhanaWeb Excellence Awards

Watch Mintah Akandoh passionately call for legislation on organ transplantation on The Lowdown on GhanaWeb TV below:





BAI/AW