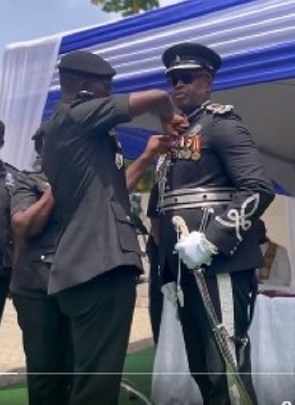 COP Nathan Kofi Boakye, one of the most popular and loved senior police officers in Ghana, officially retired from the Ghana Police Service after turning 60 years old, on Wednesday, April 5, 2023.
COP Kofi Boakye, who is popularly known as Commander One, served for over 30 years in the police service. Until his retirement, he was the head of the Ghana Police Service's Legal and Prosecution Division.

He has been credited with some of the most high-profile crime-fighting efforts the country has ever seen. For instance, in 2005, he led officers from the Accra Region Command to apprehend the notorious armed robber, Ataa Ayi.

Visuals from his retirement cum birthday party showed notable Ghanaians including the Inspector General of Police, Dr. George Akuffo Dampare as well as businessmen, Osei Kwame Despite, Dr Ernest Ofori Sarpong and Ibrahim Mahama at the event.

Also present were veteran broadcaster Kofi Okyere Darko, popularly known as KOD, and the founder and leader of Anointed Palace Chapel (APC), Prophet Asanteman Bofour (Rev Obofour).
The IGP decorated Commander One with a distinguished service medal for his distinguished unblemished service to the police.

In a short remark, COP Kofi Boakye expressed gratitude to God and all persons who supported him throughout his career.

View visuals from the event below:


The head of Ghana Police Service's Legal and Prosecution Division, COP Nathan Kofi Boakye has retired from active service as he turns 60yrs today #UTVGhana pic.twitter.com/1j9Vd7RYxs

— UTV Ghana (@utvghana) April 5, 2023
COP Nathan Kofi Boakye bids farewell in speech to Ghana Police Service at his 60th birthday celebration #UTVGhana pic.twitter.com/HPrYtcKuCR

— UTV Ghana (@utvghana) April 5, 2023
Business mogul, Ibrahim Mahama joins other high profile personalities at the 60th birthday celebration of COP (rtd) Nathan Kofi Boakye #UTVGhana pic.twitter.com/4H4SSr4dtX

— UTV Ghana (@utvghana) April 5, 2023
Dr. Osei Kwame Despite, Dr. Ernest Ofori Sarpong and members of the East Legon Executive Fitness club join COP Nathan Kofi Boakye as he bids farewell to the Ghana Police service on his 60th birthday celebration #UTVGhana pic.twitter.com/Cd94cf3sR3

— UTV Ghana (@utvghana) April 5, 2023
Ace broadcaster @simply_kod at COP Nathan Kofi Boakye's 60th birthday celebration#UTVGhana pic.twitter.com/mmmYv4Jx8G

— UTV Ghana (@utvghana) April 5, 2023
His Royal Blackness @hisroyalblacknesskkd arrives in style at the 60th Birthday Celebration of COP Nathan Kofi Boakye#UTVGhana pic.twitter.com/XG6VtLVo7n

— UTV Ghana (@utvghana) April 5, 2023
Gospel Minister @dianaasamoah_official is here for COP Nathan Kofi Boakye's 60th birthday celebration#UTVGhana pic.twitter.com/VWiSIEiQAO

— UTV Ghana (@utvghana) April 5, 2023
Founder and Leader of Anointed Palace Chapel (APC), Rev Obofour, arrives at COP Nathan Kofi Boakye 60th birthday celebration #UTVGhana pic.twitter.com/v3AEm6k2Gz

— UTV Ghana (@utvghana) April 5, 2023
Watch the latest edition of People & Places below:






IB/DA