Watch video of how Gbawe residents 'miraculously' saved a man from drowning after Thursday's downpour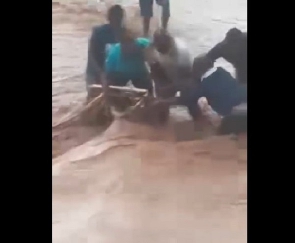 A video shared on social media shows how a man nearly lost his life on Thursday, May 18, 2023, following a heavy downpour in the national capital, Accra.
The almost two-minute video, shared by the host of Ekosii Sen on Asempa FM, Osei Bonsu, captures five residents of Gbawe frantically fighting against the rushing water to rescue the man who was sucked into a drain.

Their resilience yielded results as they pulled the man out alive, albeit nearly out of breath.

The rescued man, looking exhausted, was placed on the pavement where a crowd gathered around him.

The heavy downpour had a significant impact on normal daily activities, forcing several Ghanaians who were getting ready for work to stay home.

As is customary in the capital, some areas experienced flooding, leaving several commuters stranded.
Many social media users who commented on the video expressed concerns about the state of drainage in the national capital.

Watch the video below:



Meanwhile, you can also watch the latest episode of People & Places here




You can also watch the latest episode of The Lowdown below:






GA/DO