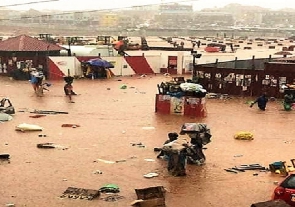 Sat, 25 Mar 2023 Source: GNA
The National Disaster Management Organization (NADMO) has indicated its readiness towards managing any possible flooding across the country.
It said, its rescue and operation team was ready and on standby to immediately assist flood victims and help them to safety.

In an interview with the Ghana News Agency (GNA), on flooding in some areas following Friday morning's downpour, Mr George Ayisi, the Communication Director at NADMO said despite being prepared as an organization, the general public must take precautionary measures.

He said people who lived in flood-prone areas must put precautionary measures in place and move to safer grounds so that they are not deeply affected in the event of flooding.

"The public needs to take precautions by moving to the safer grounds before the peak of the rains," he said.

"I will urge all to take interest in the updates by the Meteorological service and act accordingly," he added.
Mr Ayisi mentioned that as part of preventive measures put in place, NADMO had been engaged in some community sensitisation programmes to educate the public about flooding.

He said, apart from its rescue and operation teams that were on standby, the organization had received some relief items to aid its operations during this period.

Some communities in Accra, including Adabraka, Odorna and Teshie have experienced flooding after Friday morning's rain.

The two-hour downpour obstructed the flow of vehicular traffic in some parts of the capital.

The GNA observed that while some motorists were driving carefully through the flood waters, others parked their vehicles for the rain to subside before continuing their journey.
Source: GNA