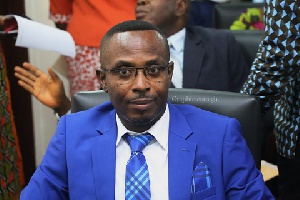 Central Regional Minister, Kwamena Duncan says it will be a disaster should Ghanaians vote for the erstwhile John Mahama government back into power.
According to him, Ex-President John Dramani Mahama has nothing new to offer Ghanaians and that he is apparently an old wine in new bottles.

Speaking to Peace FM's 'Kokrokoo' host Kwami Sefa Kayi on Wednesday, Kwamena Duncan recounted some bad policies and managerial skills of the former President, for which Ghanaians voted for a change.

He noted that going back for President Mahama, come 2020, is not the way forward for the economy.

To him, the Akufo-Addo administration has put in place several interventions which have seen the economy booming after inheriting a poor and hopeless economic growth from the Mahama regime.

He believed President Akufo-Addo is the best leader to salvage the economy, looking at his good works and commitment to deliver on his promises to Ghanaians.
Addressing the economic mess that was created by former President John Mahama, Kwamena Duncan asked Ghanaians not to make a mistake to fall for the deceptions of the former President and the opposition National Democratic Congress (NDC).

"It was timely and it was divine that, in 2016, the good people of this country spoke the way they did. If it hadn't happened that way, I wonder where this country would find itself . . . There is a lot of hope ahead of us. We cannot afford to go back and bring President Mahama and NDC to come and mess up our whole world for us," he said.