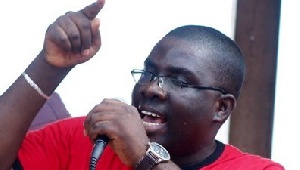 The National Youth Organizer of the ruling New Patritotic Party (NPP), Sammy Awuku says they will not allow the mandatory towing levy to take them back into opposition.
"We have been in opposition for a very long time and we are not even a year old in government . . . we cannot allow this towing levy to take us back to opposition," he told Kwami Sefa Kayi, Friday on'kokrokoo'.

"We have been in opposition for eight years; we are not yet a year old in government. Ghanaians are hopeful that the Akufo-Addo led government will bring a change in their lives and if you listen to majority of Ghanaians, including our supporters, the feedback we are receiving is that they are not happy with this mandatory tow levy. People are speaking against it and we cannot allow this tow levy to take us back to opposition . . . If it is not popular, we need to withdraw it . . . because we cannot go to opposition because of this . . . I can assure you that the government of Akufo-Addo will not be in a hurry to implement this," he assured.

Sammy Awuku was reacting to the mandatory towing levy that was passed in parliament few days ago.

The Roads and Transport Committee of Parliament has given its backing for the implementation of the controversial mandatory towing levy to be imposed on vehicle owners.

The recommendations of the committee have been sent to the Transport Minister and implementation is likely to take effect by ending of September 2017.

Reacting to this in the interview with the host of Peace FM's morning show, 'Kokrokoo', Mr Awuku said per the feedback they are receiving, "our supporters are not happy with it".
He further added that if it is implemented now, it will make the current administration unpopular.

The National Youth Organizer has also refuted reports that government will be implementing the levy on 1st September, 2017.

"It is not true Akufo-Addo will be implementing this on 1st September. We are not going to gamble with this chance in government. There is nowhere government has indicated that the towing levy will be implemented starting 1st September. It will be most unfair for a person whose car is not faulty to pay tow levy . . . we all agree that spoilt vehicles need to be towed off our roads but the implementation of it (towing levy) is problematic," he noted.

Meanwhile, he has suggested that " . . if you want to properly generate revenue for even District Assemblies, the private companies; you can decentralized and they can partner district assemblies because everywhere in Ghana, there are districts; so the district can tow those vehicles in their districts to the nearest mechanic shop."