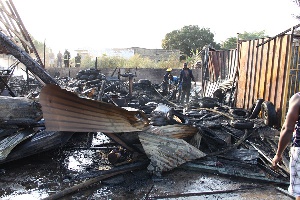 At least 10 shops have been destroyed by fire around Asoredanho at Dansoman in Accra.
The fire which gutted clustered shops along the Aliu Mahama Street reportedly started around 1:30pm Sunday.

Traders are still counting their loses as nothing could be salvaged from the raging fire.




Some eyewitnesses who spoke to www.ghanaweb.com indicated that, the smoke emanated from a nearby house within which refused was being burnt. She added that the fire scaled up the wall and lit up shops outside the walled residence and burnt them into ashes.

The witness added that some persons placed calls to the Ghana National Fire Service (GNFS) when the fire started raging but they failed to respond to the scene early.

Some other residents who spoke to www.ghanaweb.com said the emergency response team arrived at about 3:00pm following the numerous calls.


But speaking to the Regional Operations Officer of the Ghana National Fire Service, Mr. Ofori Adjei, denied the claims of their late arrival to the scene but skeptically pronounced 2:20pm as the time they got to the scene.

He said, they dispatched three fire tenders to the scene just after receiving a call from some unknown persons.

The cause of the fire cannot be established yet as the Fire Service team is still gathering information from witnesses before they can conclude on their findings, Mr. Adjei noted.

The wild fire razed down a chop-bar, beauty parlor, boutique, furniture shop, household sale shop, wielding and vulcanizing shop.