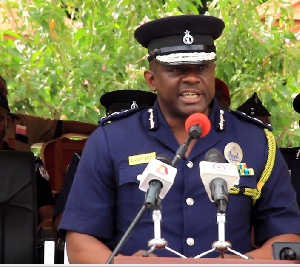 Inspector General of Police (IGP), David Asante-Apeatu, has said miscreants within the Ghana Police Service will be smoked out in the coming days.
The purge, he said, is part of an on-going campaign to redeem the battered image of the police.

In the past few weeks, there have been stories of police officers renting out their guns to armed robbers or engaging in robberies or facilitating and benefiting in crime in one way or the other.
Speaking to Class news on the sidelines of the inauguration of a new police station and barracks at the Millennium City, Kasoa, by the Church of Pentecost, Mr Asante-Apeatu said the service is hoping to reverse the trend by eliminating all bad nuts within its fold.

He said: "We're putting measures in place and all those miscreants within the police service, we're going to fish them out, but let me say that it is a human institution and I don't think we all expect every police officer to be above board. We have some officers with some criminal tendencies amongst us but these are the bad nuts that gradually we are fishing out."