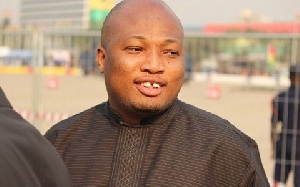 Samuel Okudzeto Ablakwa, Ranking Member, Foreign Affairs Committee of Parliament, says some Members of Parliament and the Ghanaian media knew of the MPs who had been engaged in the alleged visa fraud long before the UK High Commissioner's letter to the Speaker of Parliament was leaked.
According to Ablakwa, this was a "poorly kept secret" by Mr Benjamin because it was already public knowledge.

Three MPs, together with a former lawmaker, were cited in separate alleged visa offences by the UK government and a 10-year visa ban placed on them.

They include: Richard Acheampong, MP for Bia East in the Western Region; Joseph Benhazin Dahah, MP for Asutifi North (Ntotroso) in the Brong Ahafo Region; Johnson Kwaku Adu, MP for Ahafo Ano South West in the Ashanti Region; and George Boakye, former MP for Asunafo South in the Brong Ahafo Region.

Read his full post below

I have followed media discussions of British High Commissioner Jon Benjamin's letter to the Speaker of Ghana's Parliament with much interest as the Ranking Member of Parliament's Committee on Foreign Affairs.
In contrast to those who have questioned why the said confidential letter was leaked to the media, I take a different view. I am elated this letter is now available to the media and the general public for open and frank discussions in the true spirit of transparency and good governance. This must be good for our country.

In any case, before this leak, this was the most poorly kept secret by the British High Commission as many of us including journalists have known about this for a considerable period of time, perhaps even before the said 20th January, 2017 letter was written and dispatched to the Right Honourable Speaker.

The other poorly kept secret is the claim that there are some MPs holding dual citizenship in violation of Article 94 (2) (a) of the Constitution of Ghana. Again, I will contend that it's better to see some swift concrete action on this particular issue instead of it being used by some people for smear and blackmail within diplomatic circles. This definitely raises larger issues of how parliamentary candidates are vetted within our political parties and the collaborative role of the Electoral Commission, National Security, and diplomatic missions; a discussion we will have to return to at a later date.

It must be understood very clearly, that if confirmed, what the three sitting Members of Parliament (MP) and a former MP are alleged to have done cannot be endorsed and must deserve strong condemnation and possible sanctions if need be. It is therefore commendable that Mr. Speaker has taken a serious view of this matter and has instituted the needed investigations. This is what is expected of working democracies just as the US Congress is currently doing in the case of General Michael Flynn.

Reading through Jon Benjamin's letter, however, one cannot help but notice a rather regrettable colonial mindset. He writes:
"Given what has transpired, the British High Commission would request the Ghanaian parliament to be aware of the following:

a) We will henceforth only entertain and prioritise requests for visas from MPs, if they are made through the parliamentary protocol office who should verify that there is an official, parliamentary reason for the proposed visit;

b) However, MPs wishing to make private visits to the UK or to be accompanied on official visits by non-official relatives must apply online and through our Visa Application Centre at the Movenpick Hotel like any other applicant;

c) Could you kindly confirm whether and why it is legitimate for ex-MPs to continue to possess and use diplomatic passports, in some cases for many years after they have ceased to be parliamentarians? In that regard, we would humbly like to ask, Mr Speaker, what procedures are in place to ensure that diplomatic passports are removed forthwith from all those 133 former Members who have just ceased to be MPs?

d) the net effect of such visa fraud by a very few Honourable MPs as outlined in this letter is to raise the bar of suspicion against all such applicants, which is of course regrettably to the huge disadvantage of those very many MPs who do act honourably at all times."
Quite clearly, to Mr Jon Benjamin, issuing visas to Ghanaian MPs is such a great favour and a reward for good group behaviour. Therefore, because three sitting MPs may have misconducted themselves, all 275 MPs must now face the headmaster's (if not the colonial Governor's) wrath and sanctions. Such utter disrespect for our parliament and our country regardless is most unacceptable.

If this is Mr Benjamin's mindset even in dealing with the people's representatives, then one can begin to wonder how he treats the applications of the people of Ghana.

Never mind that visa application processes are not free and that the high fees most Ghanaians complain about are not refundable to applicants. Never mind that Ghanaians including thousands of fee-paying students who travel to Britain do so with our own money which must be of some use to the British economy. Never mind that the UK parliamentary expenses scandal of 2009 involved more than 300 MPs, (NOT 3 as in Ghana's case), with at least six of these UK MPs going to jail and yet no bar of suspicion has been raised by any Ghanaian "headmaster" in extending diplomatic courtesies to UK MPs, but I guess that is the world we live in.

Mr. Jon Benjamin amazingly had no diplomatic difficulties whatsoever in overstepping boundaries and lecturing our Speaker, our President through his Secretary, our Chief of Staff and our Foreign Minister on how diplomatic passports ought to be used and retrieved. Absolutely unbelievable! And by the way, Mr Benjamin cannot be right when he asserts that MPs continue to use diplomatic passports "MANY YEARS" after they cease to be MPs when he knows that these diplomatic passports are valid for only five years while, admittedly, an MP's term is four years. The exaggeration was totally uncalled-for. He also knows that by practice these diplomatic passports are withdrawn upon ceasing to hold public office even if the retrieval is fraught with some challenges as all human institutions encounter.

Even though many of us have had concern about the modus operandi and non-diplomatic tendencies of the top-most British diplomat in Accra, I will not advocate hostility or reciprocal action on British MPs who will require visa services to visit Ghana as some have suggested because it is entirely possible that Mr Benjamin's conduct and social media pontifications may not represent official British Government position. Fortunately, we have some good recent experience as a country in containing interesting High Commissioners since the days of Craig John Murray and more significantly, we should never forget that their postings to Ghana are not the least permanent.
What is permanent and which we must all continue to cherish is the unique bond of history and friendship that exists between our two countries which must constantly remind us that in the final analysis only mutual respect and equal rights triumph.

Samuel Okudzeto Ablakwa (MP)

Ranking Member, Foreign Affairs Committee of Parliament