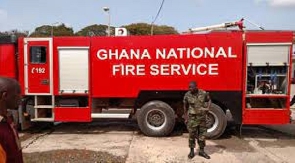 As a measure to reduce domestic fires, the Ghana National Fire Service (GNFS) says it will implement a regulation requiring the installation of an early fire detection system in every home.
Assistant Chief Fire Officer (ACFO) Timothy Osafo-Affum, Director of Public Relations at the Ghana National Fire Service, revealed on Nyankonton Mu Nsem on Rainbow Radio 87.5Fm that the Service was collaborating with the private sector to reduce domestic fire outbreaks.

He explained that the GNFS would be implementing this policy under the L.I 2249 (Fire Precaution Premises Regulation, 2015).

He said the law mandates the fire service to ensure that every home is provided with early fire detection and fighting systems.
"We encourage Ghanaians to purchase the early warning signs. If you want to purchase the system, you would have to go to the fire stations in your community and make the purchase. We have trained people who would fix the system," he said.

He stated that the GNFS is legally required to enforce this requirement. However, it would work with the private sector to ensure the system's successful implementation.

"We are in talks, and we are hopeful that by the middle of the year, we will have reached an agreement, and implementation will begin."