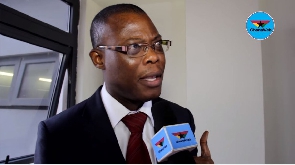 The main opposition National Democratic Congress (NDC) has commended "highly, the leadership of the Minority caucus in parliament and the MPs who stayed true to the expectations of the party and the Ghanaian people" and promised: "We will stop at nothing to identify them and publicly laud them in due course.
"Their loyalty and patriotism, would not be forgotten", the party added.

A statement signed by General Secretary Fifi Kwetey on Saturday, March 25, 2023, said: "Ghanaians would recall that the party issued a directive to the minority caucus in parliament to reject the new ministerial nominees a few weeks ago".

"This was in alignment with the pervasive view of Ghanaians that this moment of economic crisis and financial haircuts, calls for the Akufo-Addo-Bawumia government to show, by example, that it is willing to reduce its expenditure by downsizing its government among other things", the statement noted.

"We note, however, that some MPs on the side of the NDC minority, for reasons known to themselves, elected to place their parochial interest ahead of the interest of Ghanaians", the party said, adding, the NDC, "on behalf of Ghanaians, condemns this conduct in no uncertain terms, as, it not only betrays the expressed will of the party, but the desire of the Ghanaian people and constitutes a massive stab in the back of the good people of Ghana".

On the other hand, the party described its MPs who voted for President Nana Akufo-Addo's ministerial nominees on Friday contrary to an express warning by the leadership of the biggest opposition party against doing so, as "backstabbers" and traitors.

It said the party, as a corporate entity, "bears no liability for the deviant action of the few self-seeking MPs who betrayed the collective cause of the party and the nation".
In a separate statement, former President John Mahama also expressed his disappointment with the members of the minority caucus in parliament who broke ranks with the position and leadership of the party.

In a post on Facebook, Mr. Mahama, who is seeking a comeback on the ticket of the NDC, said: "A couple of weeks ago, our NDC group in parliament announced a principled position not to approve any new ministers until the president has taken steps to significantly reduce the size of his government".

"This position was supported by a broad section of Ghanaians and public advocacy groups", he said, adding: "Unfortunately, Ghanaians were sorely disappointed yesterday when several members of the minority, for some parochial and personal interest, voted against the principled position adopted by the party".

"I am also disappointed", Mr. Mahama said.

He said: "Those responsible for this betrayal must do some serious soul-searching and learn to place national interest over personal interest".

Mr. Mahama also said: "Equally disappointing is the president's refusal to seize the opportunity to realign and downsize his bloated government when the NPP flag bearer hopefuls and the chieftaincy minister resigned".
"Clearly", he noted, "in this time of crisis and excruciating hardships, President Akufo-Addo, his NPP administration and some of our MPs are out of tune with the mood of the Ghanaian people".

Mr. Mahama insisted half of President Akufo-Addo's more than 120 ministers can do the job.

"I still believe, as I said in Ho recently, that in this time of crisis, the government can still run efficiently with not more than 60 ministers".

He said: "For our grassroots members and all Ghanaians who are disappointed by this insensitivity, I urge you not to despair".

"2024 offers us an opportunity to work hard to defeat this reckless government that seeks to destroy our democracy and the very livelihoods of Ghanaians – an opportunity for us to work and build the Ghana we all want from January 07, 2025."