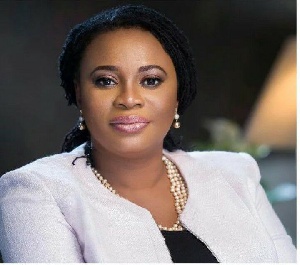 Sacked Electoral Commission of Ghana, Mrs Charlotte Osei has called for a ''truly independent'' body to manage the country's electoral matters.
In a statement, the first female commissioner who was on Thursday dismissed together with two other deputies underscored the need for an unbiased, fair, firm and free electoral commission that can fight any political influence ''I still hold the view and belief that our country deserves an Electoral Commission that is truly independent, unbiased, free, fair and firm, and can fight-off all attempts to politically capture, manipulate, influence and control it.''

''This was always my cardinal objective and my approach to my work. In due time there will be ample opportunity to fully address these matters once and for all.'' Mrs Osei in the statement said, she worked in a manner that brought reforms at the EC despite the threats on life and that of her family.

''Despite all the attacks, the character assassinations, the falsehoods, the curses, and the relentless plots and threats against my family and I over the past three years of my service as the Chair of the Electoral Commission, I chose to remain silent and focused on delivering on my constitutional mandate to the best of my ability. Indeed, the records show that I presided over the 2015 district assembly election and the 2016 presidential and parliamentary elections to the best of my ability.

I prefer to leave the standard and quality of those elections for Ghanaians, history and posterity to judge,'' she added.

She used the opportunity to commend Ghanaians for the support and prayers she has received over her dismissal and promised to respond to issues at the appriopriate time.

She called on Ghanaians to mourn the demise of former vice president Paa Kwesi Amissah-Arthur who died some hours ago and promised to react to the dismissal.


''I wish to acknowledge all the concerns and to express my deep appreciation to all of you for the show of support. With the heartbreaking news of the sudden demise of our former Vice-President, H.E. Kwesi Bekoe Amissah-Arthur, I will at this time, withhold my response to the President's decision, while we commiserate with his family and pray for the peaceful repose of his soul.



At this sad time as a country, we are unified in our grief, respect and appreciation for this great man of our land and someone I had deep respect and admiration for.''

She also expressed her gratitude at the opportunity granted her to serve in the capacity as EC chair. ''I still consider it a great honour and privilege to have been given the opportunity to serve my nation at very high levels during my period in public service.''