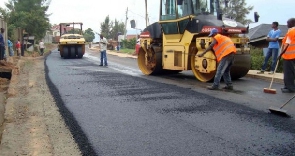 Deputy Minister of Roads and Highways, Stephen Pambiin Jalulah, has said the government was paying contractors to work on existing road projects in the country.
According to him, government through taxpayers were maintaining roads in the country.

He added that development partners have been partnered by government to complete these road projects.

Speaking on The Probe on JoyNews, Mr Jalulah noted that his outfit cannot begin new projects due to the cut in the ministry's budget.

He said, "The implication is that we cannot begin new projects but for the ongoing projects we are paying contractors to come and do it. Let me add that the source of funding for the roads is not entirely the government of Ghana."

"The government through taxpayers are maintaining and doing new roads but we also have development partners," Mr Jalulah stated.

The Deputy Minister of Roads and Highways disclosed that government was likely to complete 7 new interchanges by 2024.
It would be recalled that President Nana Addo Danwka Akufo-Addo during the State of the Nation Address on March 8, 2023, declared that his administration has built more roads than any other government in the 4th Republic.

President Akufo-Addo asserted that the majority of monies borrowed has been pumped into the construction of roads.

Watch the latest edition of BizTech and Biz Headlines below:








Watch the latest edition of Business Moments below:





ESA/FNOQ