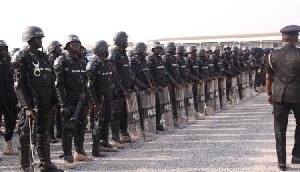 Personnel of the Ghana Police Service are willing and ready to lay down their lives in order to stop robberies in Accra and other parts of the country, Greater Accra regional Police Commander COP Dr George Akuffo Dampare has assured.
The comment comes on the back of the daylight robbery at the Royal Motors in Accra Tuesday. The incident joins the rising spate of brazen robberies in Ghana. So far, close to 40 incidents of robberies have occurred in the country since the beginning of the year.

Speaking to Francis Abban on the Morning Starr Wednesday, COP Dampare said the Police service has been retooled by government and have no excuse to fail.

"We would do everything even if it mean putting our lives on the line to make these criminals very uncomfortable. If ensuring there is security means we lose our lives as police officers, we'll allow that to ensure all citizens are safe. We are doing all we can to ensure that the good people of this country have their peace of mind and are safe. As for the robbers, they should watch out. Government has committed 800 million to retool the Police Service and we have no reason not to deliver, we'll become number one in Africa looking at the governments commitment," he said.

He however downplayed claims that the Inspector General of Police is failing at protecting Ghanaians.
"The police service is doing so much and the community should support the police administration to achieve more results. It will be very unfair and unfortunate for one to say the IGP is failing. The IGP and his men are working day and night to ensure safety for all. Visibility patrol has increased across the country. We are doing what we have been doing and have added on to ensure the safety of all. Security is about partnership, the security service and the community can help ensure safety in the country".

Meanwhile, two people have been arrested in connection with the Royal Motors robbery.