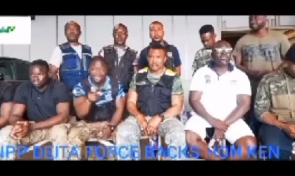 Delta Force, a disbanded vigilante group affiliated with the New Patriotic Party (NPP), has voiced its discontent and feelings of neglect by President Nana Addo Dankwa Akufo-Addo and his government.
In a video broadcast that has gone viral on social media, the group declared its support for the flagbearerhip bid of Kennedy Agyapong ahead of the November 4 primary.

In the latest broadcast, the group criticized President Akufo-Addo for allegedly advocating for votes in favor of Vice President Dr. Mahamamudu Bawumia.

One member of the group lamented, "Today, as I speak, I am sad because we used to call ourselves Delta Force. We sacrificed our lives and everything for President Akufo-Addo and his vice, Dr. Mahamudu Bawumia.

"At that time, we (NPP) didn't have the police or soldiers. I say this because where would Akufo-Addo have gotten the police before fighting for the position? So, we, the same Delta Force, turned ourselves into police and soldiers.

"We were beaten by soldiers and the police, but we endured it all because of the hope that if President Akufo-Addo and Dr. Bawumia came to power, we would never go hungry. We have friends in the NDC, and today, when they meet us, they laugh at us because despite all our suffering, we didn't gain anything."
The spokesperson for the group further expressed their disappointment, saying, "As you see us talking, we have really suffered for the NPP, but they have failed us, and I am very much pained by President Akufo-Addo's call for us to vote for Dr. Bawumia.

"It pains my soul, and I feel sad about it because there is a proverbial statement that goes, 'If an old man dies and is replaced by another old man, it is just a postponement of the funeral.

"So, if President Akufo-Addo is leaving, should we go for his vice to replace him? .... We have to change our voting pattern because at this time, let us go back and remember the words of former President Kufour, 'Look at your living conditions and vote based on it.' So, if Ghanaians want development, then let us support Honorable Kennedy Agyapong," he added.

It is not known under which arrangement the group has announced a 'regrouping' because in April 2019, the group was officially dissolved, according to its leader Kwadwo Bamba.

"Officially, there is no group like Delta Force again in the NPP. After series of meetings with party leadership, we have agreed to disband the group to bring peace, but all members are still part of the NPP."
Delta Force dominated the news in 2017 after the group stormed the Ashanti Regional Coordinating Council to physically drag out a Security Liaison appointed by President Nana Akufo-Addo.

The group made up of well-built men, subsequently laid siege on a Circuit Court to free thirteen(13) of its members who were standing trial for conspiracy, assault and causing damage to office property.


Akufo-Addo's Delta Force in action

2/3 pic.twitter.com/nHF7Jiqax9

— General Marcus! (@marcusadampah) September 27, 2023
AM/SARA
Ghana's leading digital news platform, GhanaWeb, in conjunction with the Korle-Bu Teaching Hospital, is embarking on an aggressive campaign which is geared towards ensuring that parliament passes comprehensive legislation to guide organ harvesting, organ donation, and organ transplantation in the country.

Watch the newest episode of The Lowdown on GhanaWeb TV below